For my last anniversary my wife gave me a great gift, a 1GB USB drive. The question is, what do you do with all that space?
A while back Lifehacker had a great round up of portable applications that fit on a USB drive and don't have to be installed onto the host computer. I put most of the recommended apps on my USB drive before I went on a 6–week speaking tour this fall. Plugging my USB drive into any computer and loading up my own version of Firefox, complete with extensions, bookmarks, cookies and, yes, passwords was a breeze (note: be very, very careful about your passowords on a portable device).
A couple of days ago PortableApps.com released the Portable Apps Suite 1.0.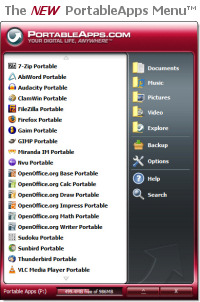 The PortableApps Suite is available in multiple Editions for drives of every size. The Standard Edition includes the menu, backup and icons mentioned above as well as ClamWin Portable (antivirus), Firefox Portable (web browser), Gaim Portable (instant messaging), OpenOffice.org Portable (office suite), Sudoku Portable (puzzle game), Sunbird Portable (calendar/task manager) and Thunderbird Portable (email client) and runs comfortably from a 512MB drive. The Lite Edition uses AbiWord Portable (word processor) instead of OpenOffice.org Portable and runs comfortably from a 256MB drive.
If you travel much at all, and use someone else's computer a fair bit then these portable applications are the way to go. While not part of the Portable Apps Suite, Skype is one of my favorite apps to take portable. Find the instructions here.
via Lifehacker